From the desk of Autumn Smith:
FDNP, Holistic Nutritionist and Co-founder of Wild Pastures
A recent study reported that the average American gets approximately 60% of their calories from ultra-processed foods and nearly 90% of those calories are from refined sugars.
The report continues that this standard American diet can cause many health issues and the result is a population that is both overfed and undernourished.
This is why it is vital that we cut back on ultra-processed, high sugar foods and replace them with more protein-rich and nutrient-dense foods.
While meat is a great option, the unfortunate truth is that 99% of all meat consumed in the USA is raised in industrial feedlots. These confined animal feeding operations (CAFOs for short) create nutritionally inferior meat and wreak havoc on local ecosystems.
On the other hand, some of the most nutrient-rich, healthy protein sources that are good for you and the environment are 100% grass fed and finished beef, pasture-raised pork and pasture-raised chicken raised using regenerative farming methods.
A joint study between the USDA and researchers at Clemson University in South Carolina concluded that grass-fed beef is better for human health than grain-fed beef in many ways:
Compared with grain-fed beef, grass-fed beef is:
Higher in vitamins A, D, E, K and B-vitamins thiamin & riboflavin
Higher in the minerals calcium, magnesium & potassium
Higher in total omega-3s
A healthier ratio of omega-6 to omega-3 fatty acids
Higher in CLA a potential cancer fighter
Lower in saturated fats
So what better way to simultaneously eat more nourishing foods that are both good for you and the planet than having healthy, nutrient-dense, regeneratively-raised, 100% grass fed and pasture-raised meats delivered from American family farms to your doorstep!
But there are two big problems with most grass fed and pasture-raised meats:
1. Most of the time it is impossible to know what you're really buying. Over 70% of grass fed beef is imported from other countries and since the term "grass fed" is unregulated, even much of the "grass fed" beef in the USA is actually grain fed. And "free range" or "natural" chicken and pork is a term used by many factory farms to trick consumers into thinking the animals were raised on pasture. "Pasture-raised" is the claim to look for which means raised on pasture and not in confinement.
2. Most truly pasture-raised meats are hard to find and very expensive when feeding a family.
So what do you do if you want healthy, nutrient-dense, pasture-raised meats that is affordable?
This meat is clean, healthy, truly pasture-raised, non-GMO, antibiotic free, and entirely raised in the USA on lush grass pastures free from pesticides while using regenerative farming practices that help improve local ecosystems: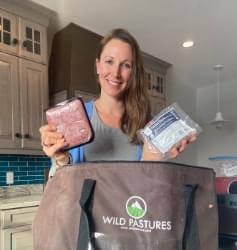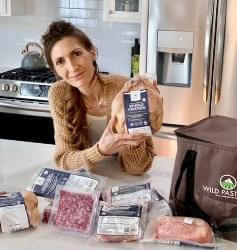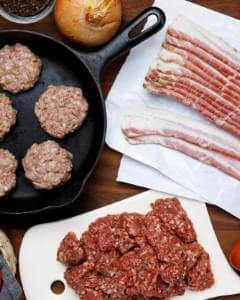 Oh. Wow.
This is it!
I remember eating pasture-raised meats from my grandfather's farm. It was delicious, had an amazing flavor and I knew how much care went into raising the animals in harmony with nature.
It is the meat I've compared everything else to.
And nothing has even come close, until now.
What I've found is that virtually all grocery store meat (and many other meat delivery services) is sourced from factory farms where the animals are fed high amounts of GMO grains which results in bland flavor and a quite unhealthy product.
The best tasting meat, it turns out, is also the healthiest meat.
Our meat is delicious and the healthiest, most conscientiously sourced meat we've ever seen... both for our health and the health of the local ecosystems in which it was raised.
Up until now, meat of this quality would cost an arm and a leg. But our mission is to make regenerative, pasture-raised meat more accessible both in terms of availability AND affordability. That's why our costs are consistently 25-40% less than what you would find elsewhere.
Start Customizing Your Order:
SAVE 20% FOR LIFE NOW
PLUS $15 OFF YOUR FIRST BOX
From Our Farms To You:
WILD PASTURES
We are committed to providing the most nutrient-dense meats that we believe are the most flavorful in the world at the lowest prices on the market. Our meat is delicious and are loaded with nutrients while being free from antibiotics, added hormones and pesticides like so much of the factory-farmed meat at the grocery store.
We know this may be your first time trying pastured meat raised using regenerative farming practices. This is likely your first time trying meat that is so clean and tastes the way meat is supposed to taste.
So we have a deal for you.
We know you're going to love Wild Pastures. After one try, you'll never go back to factory-farmed, grocery store store meats that lack flavor and nutrition.